Capture moments of mystic nature in Leh-Ladakh for everlasting memory.
If someone longing to capture moments of mystic nature in myriad moods in camera, then Leh-Ladakh may be waiting for shutterbugs like you. Go wherever you like, your eyes will meet caravan of mountains adorned with crown of ice, cluster of clouds, humming valleys, picture-perfect landscape— it offers all to shutterbugs.
Also known as 'Land of high passes', the place is paradise for amateur and professional photographer to catch the charm of hues of nature in their lenses. The experience is awesome where opportunities are plentiful.
Tso Moriri Lake:
Feel ecstatic at first glance at oasis in the arid desert land and click the moment from all possible angles. Capture in your camera the dancing clouds and panoramic view of nearby surroundings that changes the scene frequently at this largest high altitude (4,522 m) lake situated between Ladakh, Tibet and Zanskar. The motorable road gives you exciting offer to discover marvels of nature.
Four centuries old Korzok Monastery is another attraction for photo travelers interested in ancient culture and traditions of Buddhists. For wildlife photographers, this nearly 20 km long lake gifted with emerald blue water also boasts various species of birds like pochard, cranes, geese and gulls. One can also watch snow leopard and Tibetan wolf if wonders nearby surroundings.
Zanskar and Ladakh mountain ranges:
The steep terrains creates a mixed reaction of fear and fabulous. The gurgling river creates a miraculous aura of heavenly abode.
Meet and sheep and yak in the Karakoram mountain range. Stok Kangri is the highest among of Ladakh's mountain peaks. These Zanskar and Ladakh mountain ranges will never be out of your sight, while exploring in these hills. The scene at evening and morning is spectacular for photography session.
Pangong Tso Lake:
As the sun changes its position, the panoramic view of this crystal clear blue lake also go for change with green and violet colours of mountains in backdrop, which is photographer's delight. The festival of ice skating is an annual affair. Exotic tourists need a tour permit while there is no need for Indian national.
Only one-third of lake lies in India and the rest in Tibet and is counted as one of the largest salty lakes in Asia. It is a must see for all travelers visiting Ladakh. The lake freezes during winter months, and offers ice-skating for adventure-seeker tourists.
Khardungla Pass: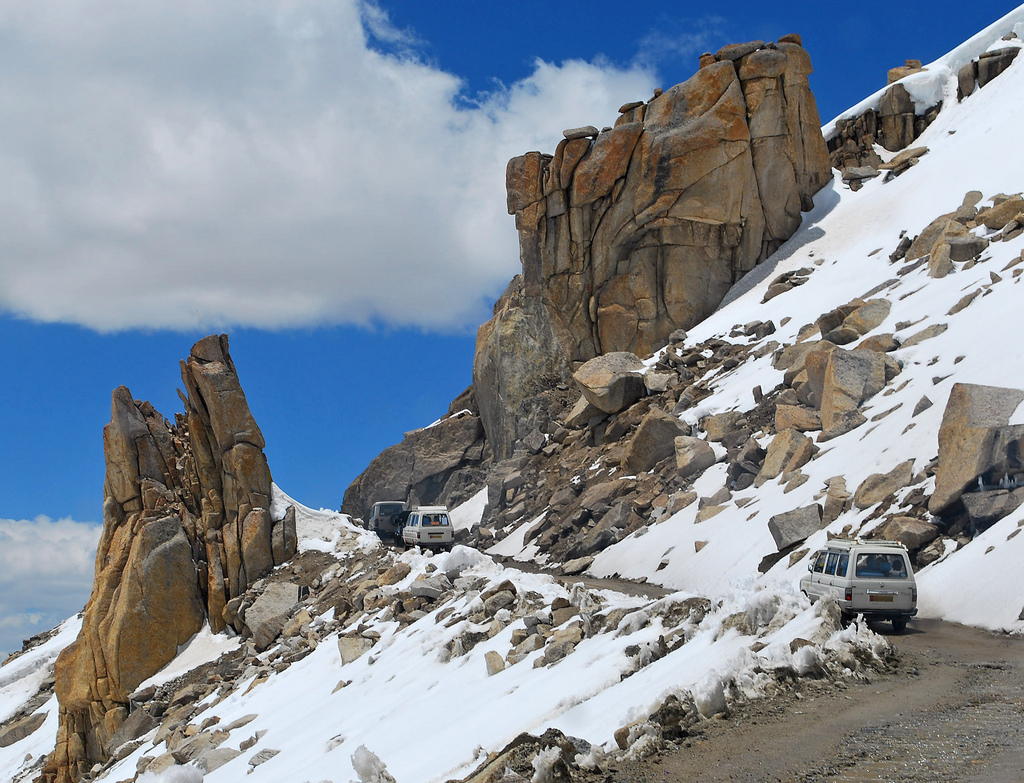 As per locals, this is the highest motorable road in world at an altitude of more than 5,000 meter, a breathtaking place connecting Nubra Valley. The Border Road Organiztion (BRO) maintains this road. An array of Tibetan flags welcomes you on the journey on top of the world.
Biting cold experiences with sharp-curved roads makes your journey exciting and thrilling, but also offers to catch nature's beauty in camera for everlasting memory. Need a special travel permit to reach here?
Nubra Valley:
If you are searching to see river, sand, snow, mountains and valley at the same place, this is the right place for you. Passing through Khardungla Pass will land you in this picturesque valley where one can enjoy camel ride.
The tri-armed valley is situated at the confluence of Shyok and Nubra rivers. Straight roads seem to be coming from the mouth of mountains and ignite the imagination of cameraman and tourists alike.
Leh Palace:
An architectural icon of Leh, now under the control of Archaeological Survey of India. This nine-storied building was built by King Namgyal in 17th century.
From the roof, one can have 360-degree view of Leh including Stok Kangri and Zanskar ranges.
Spituk Gompa:
Just 20 minutes drive from the heart of Leh town. Don't miss the opportunity to see big statue of Buddha and the culture of monks.
Climbing more than 100 steps upwards will propel you to 11th century monastery or Gomba on a hill top where one can view Leh town and Indus river.
Namgyal Tsemo Gompa:
Feel the perfect sync of mind and soul in this 15th century holy shrine of monks dotted with prayer flags. One can beautiful view of Leh town on the top of hill. The statue of Buddha is another attraction for tourists and lensmen alike.
Hemis Gompa:
Near on the west bank of Indus river, this is a World Heritage Site of India. Dedicated to Guru Padmasambhava, here major attractions are the masked parade, Hemis festival in July month which offers an array of opportunities for culture-loving photographers. Mural painting in decorative items is another attraction.
Suru Valley:
The name derives from Suru River which originates from Panzella glacier. This marvelous valley is home to vast green fields, floating glaciers, scintillating streams and glimmering glaciers offers myriad opportunities for breathtaking photography.
Experience the charm of simplicity while meeting villagers living in pristine villages and capture their moods.
Explore the most beautiful places  of Leh Ladakh, Plan your Ladakh Tour Packages visit here: http://exotiqueindia.com/tours/leh-ladakh-tour
Social Share